>> Thursday, February 18, 2010

I don't have a ton of vintage goodies this week, but I did find these cute owl trivets at Salvation Army- note the $1.79 price tag. All blue tags were 50% off the day I was there, so I got them for $1.79 total. Not bad considering I've been on an owl kick lately and scoping these exact sort of trivets out on Etsy and pricing them between $5 and $15 plus shipping!


A couple of coats of leftover white spray paint, since I'm not a fan of brass, and they're good to go!


Not sure where their final resting place will be in my kitchen, I keep moving them around. But I love them! :)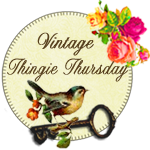 Linking up to VTT over at
the Coloradolady
.